Though these past seven years have been interesting and educational, even though I've enjoyed my work as a processing plant manager, food produ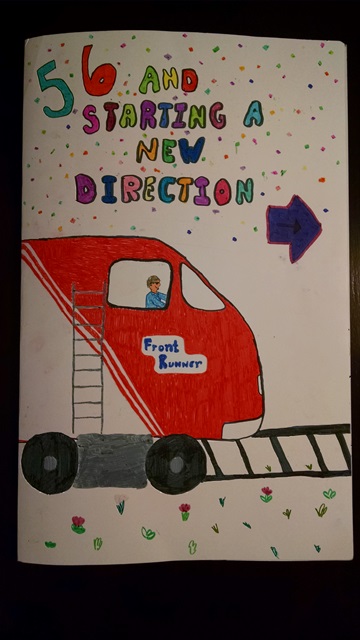 ct developer, and process & production equipment designer… Even though I was good at what I did here and found great success in this work… alas, I guess I'm just not great at corporate politics. I've not mastered the subtle art of duplicity guised as diplomacy. As we found success as a company, and as the company grew larger, and as the "high level" executives were brought in to direct the growing company, the promise of helping to create something great became the threat of being crushed by the monster I helped create.
In retrospect, I'm glad to be rid of my Frankenstein. It had consumed so much of me that I had no personal life. Work duties, phone calls and problems day and night, 7 days a week took a toll on me and on my all-important family.
So as celebrated last May 25th, on my birthday by my family as I anticipated beginning a training program the very next day… I'm 56 and starting a new direction.

Training for Trains
In the many years of my working life, my training for the job has varied widely.
As a teenager, I followed my older brother to his theater job and learned from him to be a movie projectionist on old 35mm carbon arc movie projectors that ran only a 20 minute movie reel. An average movie had 5-7 reels. As we switched back and forth between projectors, we also had to replace the carbon rods and keep them adjusted so the arc burned just right. I loved that job and took his place when he moved on to bigger and better things.
When I purchased a mobile home toter to work as a contractor transporting those big over-sized loads to dealers in the Pacific Northwest, I had never driven anything bigger than our family's farm trucks and delivery vans. So I drove that large truck around in circles in the field where I purchased it to learn how to drive it before hitting the open road. (This was before CDL's when my Idaho Chauffeur's license was my only needed qualification.)
Training at my last employment amounted to the equivalent of, "Throwing the babies in the water. The ones that drowned… too bad. I somehow stayed afloat while learning that job.
So as I applied to become a railroad engineer, the detailed and methodical application and training process was impressive to me. If I could qualify through each step of the way, I would indeed become a well-trained railroad engineer.
Pre-qualification
Before the Utah Transit Authority's Frontrunner Railroad would even look at me as a prospect, there was a long list of things I had to qualify in. The application was long and detailed.
Eventually, I was given a study guide and an invitation to take a Pre-qualification exam. Google was my friend as I discovered what terms like CTC, ABS, Absolute Block, and Frog, meant in Railroad lingo.
I passed the exam, got an interview. Then I passed a timed physical test in the railroad yard, which included moving about the train hooking up cables and hoses, and throwing a manual railroad switch.
The training program
Finally, I passed the exam for the DOT Medical card and was given the offer to join their 10 week training program. No pressure here but I needed to pass 3 final exams in the next 4 weeks with a minimum score of 90%, and one final exam with a 100% score.
With that, I've earned a student license and can go out and actually learn to drive the trains. After logging at least 120 hours of operating the trains, and then passing that driving test, and then going back and passing another overall written test… I get my license to drive the trains.
And all of this so I can make about the same dollars per hour that I used to pay forklift drivers at my previous employment.
It's been a very interesting summer. I've learned a lot and have lots of stories to tell. So maybe it's time to start blogging again.