The first time I heard the expression was in my job interview. I was answering the question, "Why do you want to work for a railroad?" I had addressed the query with examples of my favorable past experiences and interests in trains, finishing with something like, "I want to make a career change and think I'd like to work with trains." From his follow up question, "Are you a Foamer?" my blank stare was all the answer he needed. He moved on to a different line of questioning. Apparently I wasn't a Foamer.
Through my training, I heard many more references to Foamers. Finally, the expression was explained to me. A Foamer really, really likes trains! He is passionate about trains! In fact, he presumably "foams at the mouth" with excitement at the very mention of trains. They know trains like an avid sports fan know their team and players stats.
My first good exposure to this was when I was doing my training in our railyard. During this overnight shift, as we were preparing our trains for the early morning pull-out, I was watching the larger locomotives in the Union Pacific yard across from us. They were "kicking" freight cars through various switches as they made up their trains. I said to my trainer, "I wonder how many horse power those locomotives have?" He noted their six traction motors (as compared to four on our locomotives). But he really didn't know the difference in horse power. Then he said, "We'll just ask Paul. He's a Foamer." Later that night when we caught up to him, this was Paul's answer. "It depends on whether it's a SD45 or if it's been rebuilt into an SD45-2. He then started into the history of the EMC (Electro-Motive Corporation) SD45 that Union Pacific rebuilt into SD45-2's which increased the horsepower. As my trainer and I walked away to our next yard duty, he just smiled at me and said, "That's a Foamers answer."
I've observed many subsequent examples of the passion Foamers have for all things Trains.
While working with the other railroad engineers, I've become familiar with many who share their passion for trains in many additional ways besides just working for the railroad.
One fellow has a vintage locomotive tattooed across his back that is almost larger than life. It truly is a work of art. From him, I've learned of such things as the Hostler Model Railroad Club of Ogden and the Evanston Roundhouse Restoration Group who jointly sponsor the Roundhouse Festival in Evanston, Wyoming. Of course that Train Festival is an annual pilgrimage for him.
One fellow Engineer works to restore some of the old vintage railroad relics of the past. I heard that he once purchased an old locomotive of his own to restore. How do you do that? It's not like you can just tow it home and rebuild it in the garage. His foaming passion can be seen in some of the retired work horses of the past on display at the Historic Train Station at Ogden's Union Station. He's made a mark on the Heber Valley Railroad as well. This is a railroad that was established in 1899 that now offers the train travel experiences of yesteryear.
One fellow Engineer is a kid younger than half of my own children. He is so new to FrontRunner that I've been here longer than he has. Yet he can talk trains with the best of them. "Did you know that there are actual Foamer Clubs where they go play with model train sets, but everything you do (including proper radio calls) have to follow the G-Core rules or you could be De-certified?" All that Foamer practice makes for a great start as an actual Railroad Engineer. I'm sure when he answered that job interview question, "Are you a Foamer?" his answer gave very high marks on the interviewing panels score cards.
Those Foamer Clubs reminds me of when I was a Cub Scout. We visited the Eckersell Funeral Home in Rigby Idaho. Mr. Eckersell had the whole basement of this place laid out in model train tracks running everywhere. The walls were murals of scenic mountains, valleys, and such. And he had a railroad control center that operated his many trains, switches, crossings, and everything else in his little foaming world.
Rivet Counters… Foamers of a higher order.
In chatting with some of these Foamers, I've learned that a Foamer's Foamer is called a Rivet Counter. The expression has to do with detail to the smallest minutia. The Rivet Counter puts every possible detail into making their railroad passion accurate. A Rivet Counter's model train would not only have all the authentic logos, numbers, and equipment to make it real enough to function as a miniature in film making, but even the little things, such as how many rivets are needed to show holding the train's body together are to be perfect.
Foamers at large.
Some of the passengers get in on the action as well. A couple of commuters from the north end wrote a FrontRunner song, recorded it, and submitted it to UTA. They were hoping that we would incorporate it into our advertising. In its own goofy way, the tune was catchy and the lyrics clever (including made up nonsense phrases like "Incremental Power Glide"). But I think it would have only been an effective advertising jingle if everyone were true blue Foamers.
There is also one fellow who rides the train who dresses up like a railroad engineer of the Steam Locomotive era, with the coveralls, hat, and all. Some people like this we have to keep an eye on to make sure they don't try to sneak onto the Locomotive at the station stops.
While driving the train, I often get to give a little toot by special request to excited little kids (and some not so little) along the way. Seeing the happiness on the faces of small children when acknowledged by the train horn draws me back to when I was just as small.

I think my childhood train experience surpasses anyone else.
I grew up on a small farm in Southeastern Idaho, but my Mom is from the very metropolitan Vancouver, BC, Canada. When we were a young family, it wasn't always easy for Dad to leave the farm for an extended Canada pilgrimage back to Mom's old stomping grounds. Somewhere in the mid 60's, Mom and all us kids got to ride the Union Pacific passenger train to visit Grandma & Grandpa Tillack in Canada. The photo is of us boarding the train in Pocatello, Idaho. As kids, we loved running from car to car, exploring the limits of our train access. I also loved riding up in the dome car, getting a bird's eye view of the changing scenery. For a young guy, the 800 plus mile trip actually seemed short to me.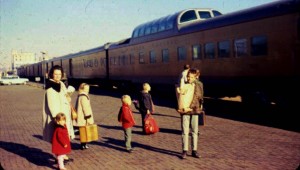 When I began first grade, the PTA had a competition to get the parents to sign up for their organization. The winning class got a real train ride. Of course the first grade won, and our whole class of 30 or so students rode a school bus 15 miles to the Rigby train depot. There we all crammed into the caboose (Yes they still had cabooses in use back then.) where we rode the train back to the Rexburg train depot. I felt like an old pro here, because I'd already taken the train all the way to Canada. The highlights of that short ride for me were riding over the old Lorenzo Trestle Bridge and of course my only chance ever to ride in a caboose.
I rode trains a lot as a child. Several trips were also taken to Colorado. One of those trips was with my next older sister. We were going to stay with our Aunt and Uncle while Mom and Dad continued on to visit the New York World's Fair. This was a true whistle stop for us. The train rolled into Greeley, Colorado where a man helped lift us down from the train. The conductor handed our two small bags down and waved to the engineer who blew the whistle and then the train was rolling again. We stood there with our aunt and uncle, waving our abrupt good-bye to our shocked parents as they quickly rolled away. Dad said that he doesn't think that the train even actually quit rolling. Mom was very glad that our aunt and uncle were standing right there to receive us or she would have gotten off as well.
One of my Dad's pipe dreams was to build a small railroad around our egg farm. Our 28 acre farm seemed just the right size and several of us boys got involved and investigated the logistics of such a project. But our busy lives got in the way and that pipe dream is now just a happy memory.
My Beautiful Wife and I rode trains all over Italy a few years back. There we experienced everything from the regular trains, to the commuter trains, to the high speed trains.
But my most fond memory of riding trains was back in May of 1977 when I got to take a trip to Australia with my dad. Dad studied world maps like Rivet Counters studied train trivia. And his idea of traveling to see the world had more to do with racking up mileage that he had previously traced with his finger on the well-worn maps then actually stopping and sightseeing. Just ask my Mom who has been to many world landmarks but hasn't actually see them some of them. After my Beautiful Wife and I visited the Leaning Tower of Pisa, Mom told of her experience there. They rode the train to Pisa, but never left the train station which was a short ride or 15-20 minute walk to where you can actually see Pisa's tower and its other landmarks. So when Dad wanted to make a second trip back to Australia, Mom wasn't excited about going along this time. I was in the right place at the right time and got the job.
So for the month of May, 1977, we traveled Australia the way Dad liked to travel.
The only thing that was prearranged for our trip was our air travel and a month long Austrail Rail pass that allow us first class passage on any public transportation in the country.
The Indian-Pacific
Within hours of landing in Sidney, Dad had us booked on the Indian-Pacific. At the time it claimed to be the second longest train run in the world (behind only the Siberian Express). Thus named because it runs between the Pacific Ocean (Sydney) and the Indian Ocean (Perth), totaling over 2700 miles. This first week of rail travel was real classy. We had 1st class sleeper berths with a conductor who waited on us hand and foot. (Yes, literally… frequent snacks in our hands and shined shoes for our feet.) He attended to our every assumed need like an English Footman, but he also hung around and just chatted, telling stories for an hour at a time. I loved listening to his accent, not realizing that around here we were the ones with accents.
This train had a formal dining car with fabulous meals served three times a day, on fine dinner ware like you would expect in a nice restaurant. It was movie moment memorable to be dining in such a nice place with waiters bringing each course under a covered silver platter, while watching wild kangaroos bouncing across the Nullabor as our train rolled westward.
Cook… Broken Hill… Kalgoorlie… These relatively small towns, each so isolated that they are named on a small world globe back home. The landscape shifts along our route gave glimpses into this wonderful country that is almost as large as the Continental United States. This railway alignment includes the longest run of straight railroad track in the world. I swear that those 297 miles are so straight that there isn't even any curvature of the Earth going through there.
Riding the rails day and night.
After our luxury trip across to Perth on the Indian-Pacific, we roughed it for the rest of our month long pilgrimage on the rails of Australia. We logged a total of only three hotel nights the entire month. Mostly we traveled through the nights from city to city. And the day was spent touring each new area on the local rail transit. This worked well to see Australia up close and personal.
Headed for the Great Barrier Reef region
By the last week of our month of Australian railroad travel, we were riding up the northeast coast of Queensland. Our goal was to make it to Cairns before we were forced to double back for Sidney for our flight home. We now couldn't take the time to ride around in the cities along the way or we wouldn't make it to Cairns. Before my 18th birthday on May 25th, we had run out of Australian cash and couldn't leave the train long enough to find a bank to exchange our American bills. I don't know why we didn't use credit cards? But we had run out of money and chose to just go without food rather than miss our chance to visit Cairns.
The Kuranda Scenic Railway
After another night sleeping in our seats, we arrived in Cairns early in the morning. It had now been two days since we had eaten anything. But before the bank opened, and we could get cash for food, the Kuranda Scenic Railway would depart for a day trip into the Australian mountainous rainforest.
We had to choose. Either take this bonus train ride on a very historic narrow gauge railway that was built in the 1800's. A ride that includes 15 dark tunnels, over 40 skinny bridges, and 98 sharp bends clinging to the rugged mountain side, while climbing up the mountain rainforest with jungle so thick and dense that anything short of just being there can't give justice to the experience… or we could spend the day in Cairns and eat something.
We were really hungry by now and Dad asked me what I wanted to do. Without hesitation, my answer was, "Let's take the train, we can always eat later!"
Yup after starving for two days, and after already riding maybe 12,000 miles on trains in the previous 3 ½ weeks, as a starving teenager, I chose to wait another 7 hours to eat anything so I could ride another train.
OH MY GOSH!! I AM A FOAMER!!!