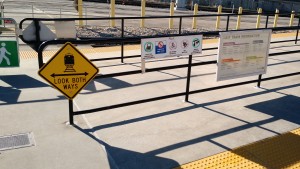 "I thought those trains ran automatically… like at Disneyland."
Back when I was first training to be a railroad engineer for FrontRunner my Beautiful Wife was amazed at how much went into that training. (See Drivers Training – Train Edition) To quote her exactly, she said, "I thought those trains ran automatically… like at Disneyland."
Since hearing that statement, I've see many more examples of misconceptions the general public, and even our regular passengers have about the operation of our commuter railway. Here are a few of my observations along with my responses to them. For additional clarification, I'm including the words of talented Train Host Joe Rees. His train limericks say it better than I can. (www.incrediblepoems.com)
"How do you drive the train backwards? Are you still in the locomotive?"
The FrontRunner trains run adjacent to the back fence along the street that I live on. Not too long ago, a neighbor asked me, "How do you drive the train backwards? Are you still in the locomotive when you are going south?" I think this particular neighbor's FrontRunner experience is watching from her back yard as the train zips back and forth. But even regular riders sometimes seem confused when we arrive at the end of our line, and within minutes are headed in the opposite direction.
FrontRunner, along with many other commuter railroads around the country, operates as a "Push Pull" system. For us, this means that when we are headed north, we drive the locomotive which pulls the train along behind. Going south, the locomotive pushes from behind while we drive from a little compartment which is in the "last passenger car". We call this the "Cab Car" because it is equipped with an operating cab that connects to the locomotive's controls.
In a matter of minutes within arriving at a terminal station, we can "Cut Out" the one end of the consist, "Cut In" the other end and "Turn and Burn" as we say, if the schedule is tight.
FRONTRUNNER – CLEAR
ON THE FRONTRUNNER TRAIN IT IS CLEAR,
THE DRIVER DOES LITTLE TO STEER!
BUT THE RIDERS, WE'VE FOUND
GET A BIT TURNED AROUND
WHEN THE FRONT CHANGES PLACE WITH THE REAR?
Joseph D. Rees
"Smack it like it's your husband!"
There are a few things about proper station protocol that I wish my passengers understood.
You need to be on time.  And by "on time" I mean early. When it comes to passenger trains, the truth is, "If you're early, you're on time. And if you're on time, you are late. And if you're late, you are forgotten. (See "People wait for trains, trains don't wait for people.")
Even though I'm more likely to wait a few extra seconds if I see you hurrying, I simply can't delay the train for latecomers. Our schedule is just too tight. (And there would always be one more latecomer to wait for.) It's not like the bus. Once we're moving, I can't easily step on the brake and open the doors again. Once moving, the train is slow to stop, and if any part of the train is off the platform by the time it does stop, I cannot open the doors anyway.
Since you are there on time (which means early), I wish you would read the signs and warnings on the platform. They instruct on how to navigate the system, keep you safe, and remind us all to be nice to each other.
Besides the platform signs, sometimes there are Platform Hosts, along with the Train Hosts who are there to help and answer questions. Please feel free to ask questions. As our limerick poet Train Host put it…
FRONTRUNNER – GO
AN ONERY OLD TRAINHOST, NAME JOE
WORKED THE PLATFORM TEN DAYS IN A ROW,
INSTEAD OF THE TRAIN,
BUT HE DIDN'T COMPLAIN,
'CAUSE HE LOVED TELLING FOLKS WHERE TO GO!
Joseph D. Rees
One of the things that seems confusing to new passengers is how to open some of the train doors. When the original push button door switches wear out they are being replaced with new-fangled electronic "Tap Switches". The problem is, pressing these switches won't activate them. You have to actually tap on the lighted green button. Usually, when a passenger is having trouble opening one of these doors, and we say, "Hit it!" or "Tap on it!" they carefully press, but much harder, to no avail.
When my previous attempt to instruct a nice little lady, who was struggling to open the door failed, I finally said, "Smack it like it's your husband!" Impulsively now, she smacked the green light with the back of her hand, and the door immediately opened. She was laughing out loud as she stepped onto the train.
HIT THE BUTTON HARD!
When boarding the train, folks resist
To hit the button REAL HARD with their fist!
And, as you may have supposed
the door remains closed
and the train leaves them there and they're PISSED!
Joseph D. Rees
"Tickets and passes please?"
Tap on, Tap off:
Paying the fare is routine for our commuters.  Most just tap on when they board and tap off when they exit. This convenience works with any electronic fare card such as FAREPAY. But it also works for anyone using a contactless credit card. Credit cards that have the Wi-Fi icon turned on its side work like that. Simply Tap on at the platform card reader before boarding and again when exiting. Just don't forget to tap off at your destination or you might be charged for further than you went. And you can only tap on and off for one person. Tapping on twice for two travelers doesn't work. I've seen someone try that. I've also seen someone who was not traveling, offer to tap on for someone who is. That doesn't work either. You have to have the card in your possession as proof of payment.
Ticket Vending Machines:
If you need to use the Ticket Vending Machine, please give yourself enough time to read through the options and make your purchase. There may be discount options if you are transferring from a bus or Trax, if you are disabled, a senior citizen, or traveling as a group. However, you may have to wait in line to use the machine, so allow yourself enough time.
Other payment technologies coming soon:
There will soon be more, and easier ticketing options as payment machines are updated and smart phone apps come on line. But the bottom line is that you need to have a valid form of payment BEFORE you board the train.
FRONTRUNNER – GONE
ON THE FRONTRUNNER TRAIN, SHOULD ONE DAWN
WITH A YELLOW-GREEN UNIFORM ON,
LET YOUR MIND BE AT EASE,
IT'S THE TRANSIT POLICE!
SHOW YOUR TICKET AND THEY WILL BE GONE!
Joseph D. Rees
"See Something? Say Something!"
While FrontRunner runs up and down the Wasatch Front, we frequently walk through the train to answer passenger questions, remind passengers to be nice to each other ("Please keep your feet off the seat"), and make sure everyone is safe.
Occasionally, we come across an unruly passenger who seems to be there just to make trouble for others. When trouble arises, whether it's a medical situation, or a troublemaker not following the rules, we can (and do) respond with a radio call for backup.
We have our own UTA police force frequenting the trains and stations. But local law enforcement in every town also works with the UTA police, responding whenever needed.
Additionally, each station is well covered with electronic surveillance. So if you are up to no good at the station, not only do we know about it. We have video evidence. Hopefully, if you are a law abiding citizen, just making use of our public transit system, this information is reassuring.
Of course everyone's eyes and ears are valuable in keeping us all safe, and we take our "See Something? Say Something!" campaign seriously. When a passenger reports a suspicious activity, a troublemaker, or anything else that just doesn't seem right, we do respond to it. If we can handle it on the spot we do. If not we call in back-ups.
However, sometimes it may seem like a problem but it's not. Here are a few of my stories of such.
Once while walking the train as a conductor, a concerned passenger who was sitting in the south end of the northbound train, while looking through the window of the locked southbound operating compartment got my attention. "Sir, are you aware of that unattended bag, sitting in that compartment?" My response: "Yes sir! That is my personal bag. The compartment is locked and I need to have the materials in that bag in my possession when I drive this train southbound."
Another time, after we had just arrived southbound into Provo, I was in the process of doing the necessary brake checks as we "turned the train" northbound to head back for Ogden. A very concerned passenger stopped to tell me about the "wheel thump" he had heard while riding. He finished his report with the question, "Do you ever check things like that on these trains?" Most passengers have no idea how often and detailed these sort of inspections are. Take this flat spot on a wheel for example. There are very exacting standards for how large a flat spot can be before it is taken out of service and replaced. Complete passenger car inspections with detailed checklists, inside and out including looking for flat spots on the wheels, occur daily on all trains in service.
Going along with this last story, occasionally I'll encounter passengers who are bothered by the "bump" they sometimes feel when the train begins to move or slow. Again, I'll get some version of the question, "Do you ever check under the train to make sure everything is OK?" These "bumps" are caused by the slack action, because of the small gaps in the couplers that hook the railcars together. Cumulatively, as these small gaps are suddenly stretched or compressed, the heavy weight of the train give you a pretty good "bang for your buck." But these things are also closely inspected on a daily basis.
Along with the "slack action" bumps, when wintertime ice builds up under the train and then breaks free, it can cause quite a ruckus as it ricochets along the undercarriage. Dear passenger, rest assured that these are normal wintertime sounds, and our inspections are detailed and regular.
TRAIN – SCREECH
THE GOOD FOLKS ON THE TRAIN ALL BESEECH,
WHY THE BRAKES ALL EMIT A LOUD SCREECH?
AND THE RIDERS OPINE,
IT GOES STRAIT UP ONE'S SPINE
INTO PLACES OUR HANDS CANNOT REACH!
Joseph D. Rees
"Matt – Guard this with your life. It's our only copy!"
Those with disabilities are of course welcome to ride anywhere they want, along with all other passengers, however if you need assistance we can best help you in the southern most passenger car. It's the one farthest from the locomotive. That's were we have the bridge plate to cover the gap when boarding and exiting, along with personnel to lend any other needed assistance. If you are at this end passenger car and ask for it, we will help you if we can.
Among the many other things that Train Hosts and Conductors do is to collect the many items that are left on the train. It is surprising how often passengers' things are left behind when they get off. Everything from people's sack lunches to nice phones and laptops are sometimes left behind. A coworker once told me about a business binder that was left in the seat. On the cover was printed in big bold print, "Matt – Guard this with your life! It's our only copy!" For the many "Matts" out there whose life is turned upside down because of a careless moment, rest assured that we do our best to find your lost treasures so you can retrieve them from our lost and found.
"Where's my boots?"
Each FrontRunner train has two bathrooms, one in each of the two cars farthest from the locomotive. Most passengers use these facilities appropriately. However, these always seems to be those few that haven't yet learned that kindergarten lesson, "Be nice to others." On the list of "Frontrunner bathroom sins" are prohibited activities such as smoking. Amazingly, there actually are a few people who think if the bathroom door is closed, no one will know. We do know, and you'll likely be removed at the next stop and cited for it.
I've observed many quick change artists, who will step into the bathroom in work clothes and then emerge a minute later dressed for a night on the town. Of course that is no problem. But there are the few, who take over the bathroom like my teenage daughter. Not only do they tie up the bathroom for an hour, stopping those who need it for it's intended purpose, but when they finally do come out, it's of no use to anyone else until the train it serviced. Wads of hand towels don't flush well. I wonder how difficult it must be to take a complete shower from the small wash basin. But it is apparent that some try when there is no more wash water available.
Once one of these scenarios played out with the fellow FINALLY emerging from the bathroom.  He headed to what must have been his previous seat, the hour before and demanded accountability. "Where's my boots?" Surprised, the conductor replied, "Oh! Were those boots yours? I turned them into the lost and found half an hour ago as we passed through Salt Lake Central Station."
FRONTRUNNER RESTROOM
ON THE FRONTRUNNER RESTROOM BE SURE
TO PULL THE RED LATCH ON THE DOOR
IF YOU DON'T IT'S A SIN
FOR THE WORLD WILL COME IN
AND YOU WON'T BE ALONE ANYMORE!
Joseph D. Rees
"If you are going to bring treats to class, bring enough for everyone!"
There are a few perks that you can enjoy on FrontRunner. For one, you can bring your bike along. We have a special car equipped with bike racks and all. But please don't try to bring your scooter or motorcycle on board. Flammable liquids (such as gasoline) are prohibited.
Wifi is also a feature on all FrontRunner trains. Feel free to log in and enjoy. But please keep it to yourself. Headphones are required so that everyone else is free to their own version of enjoyment.
One of the perks with our mode of commuter travel is that it's ok to enjoy food and non-alcoholic drinks on board. Sometimes as I'm walking through as a conductor, a passenger car will truly look and smell like a dining car.
One Saturday morning, I had just boarded to ride to work, along with a group of extended family. I settled in to work on my latest writing project, but was distracted as this family group settled in all around me. The aroma that wafted out of their carry-on bags told of the breakfast feast that was about to get underway. After a few minutes down the line, when even more of their family group joined them at the next station, they broke out the grub.
Boxes of bagels, tubs of cream cheese, gallons of Orange Juice, and thermoses' of hot chocolate were just the beginning. The food just seemed to keep coming. It was apparent that they had more food than people. Soon the matriarch of the group was offering the food to the other passengers. Obviously she had learned well the school days lesson, "If you are going to bring treats to class, bring enough for everyone." She was a very persuasive lady, and soon the whole passenger car became the dining car. It's amazing what good food can do to unite people from all walks of life.
"If you brought it on board, please take it with you!"
Just a quick note that goes along with the "be nice to others" theme. Please don't leave messes for others. Trash cans are located on all station platforms. If you brought it on board, please take it with you! It seems just a few too many missed those kindergarten lessons about being nice to others. So we do have cleaners who periodically board to clean up the trashed bathrooms, spilled drinks, and abandoned garbage.
FRONTRUNNER – STAIN
On the Frontrunner, folks should restrain
From leaving wrappers and junk on the train!
And, if you MUST sneeze,
Fold you tissue up, please.
Cause buggers can leave a BAD STAIN!
Joseph D. Rees
"Any passengers remaining will be conscripted onto the cleaning crew!"
There sometimes seems to be confusion regarding our schedule. Half hour service vs. hour service, and week day service vs. Saturday service are too often confused. The result is someone is left waiting longer for the next train or worse yet, the service has ended for the day and the late night passenger has to find an alternate mode of travel.
To simply state the schedule that so many misunderstand, our trains run more often during the peak commuter morning and afternoon/evening times. And they run later on Saturday nights then on weeknights.
Even with the frequent announcements ahead of time that a train will be going out of service, there always seems to be one or two who think if they simply stay put in their seat, we will eventually take them to where they want to go. I've had some of these passengers ask me things like, "Well, what are you going to do with this train now? Can't I just sit here?" Sometimes, a passenger, reluctant to leave will actually try to hide when we walk through to clear the train.
A few times in this situation after most passengers have exited, though in jest, I've added more detail to my announcements. "Ladies and Gentlemen, may I have your attention please! This train is now out of service and will be taken back to the yard for inspections and servicing. Any passengers remaining on board will be conscripted onto the cleaning crew and be required to scrub out toilets all night." I think this detailed announcement helps the reluctant few understand that they probably have better options than continuing their sit down strike.
"I came from Boston, and their trains always run on time!"
With our single track system, it's a big challenge to keep the train on time. So much is involved here that a previous blog post where I attempted to explain the complexities of achieving this, became three blogs to tell the story. (See Checkers and Chess Part 1 … Checkers and Chess Part 2 … Checkers and Chess Part 3)
During our peak 30 minute commuter service, when we have almost twice as many trains in service, all competing for the same signal track, and with the corresponding increased passenger loads that require more time at each station, running on time is a fun challenge. It's during these times that I am less yielding on extending the station stops for late comers.
Sometimes our passengers are a little too relaxed and forget to exit at their stop. When the light on the green door button goes out, the door will not open no matter how hard you press it. At this point your ride had just been extended to the next station.
FRONTRUNNER – SNOOZE
ON THE FRONTRUNNER TRAIN SHOULD YOU CHOOSE
TO LEAN BACK YOUR HEAD FOR A SNOOZE
MAKE UP A GOOD LIE
AS YOUR STOPS GOING BY
A REASON YOUR BOSS WILL EXCUSE!
Joseph D. Rees
When everything is going as planned we can and do run on schedule during these busy times. However, especially with our single track that all trains in both directions must travel on, it doesn't take much to spoil things.
If one train has a mechanical issue, extended stop for police action, or a switching or crossing gate problem, that train will be late to the next "meet" with the opposite bound train, making it also late. Despite our best efforts, this domino effect rolls through the entire system before long. It is then very difficult to get all trains back on schedule until the peak commuting time is over and we drop back to five trains out in the system instead of nine.
Like I said, despite our best efforts to run on time, with our present system, it doesn't take much to make us late. Some of these delays are caused by the very passengers that are unforgiving when we are behind schedule. Passengers slow to board or exit the train slows our tight schedule. Even more so when someone forces a door to remain open, causing it to jam. Suddenly a few second of delay becomes 5 minutes or more as we locate the jammed door and fix it.
Another delay is caused when passengers run in front of the train as it enters or exits the station. If we throw the emergency stop, all of the system air is "dumped" into stopping the train. It then takes time to rebuild the air in the system before we can proceed.
Even though our passengers sometimes don't recognized it, weather related problems such as winter storms causing delays, generally impacts our adjoining freeway more than our railroad. This past winter after an impressive storm slowed our progress as it affected such things as our signal systems, switches, and grade crossing, the train I was conducting on pulled into the station about thirty minutes late.
I listened patiently while receiving a tongue lashing from some of the waiting passengers. When they finished, I apologized for our delay explaining that in the current weather conditions, we were doing the best that we could. When they seemed unsatisfied, I pointed out the fact that if they were trying to get to work on the freeway just then, they would be sitting in that traffic jam for at least two hours, perhaps more. Knowing I was correct, they conceded that we as a railroad were at least doing better than the interstate road system was at that moment.
Another woman, unsatisfied with our best efforts through the stormy weather, indignantly declared, "UTA just needs to get their act together! I came from Boston, and their trains always run on time!"
"The grass is always greener on the other side of the fence"
This woman's statement left me a little defensive as I pondered if her accusation was fair. Was stacking Salt Lake City's commuter rail service to Boston's a reasonable "apples to apples" comparison? Everyone knows that the population density is vastly different. I wondered if Boston's commuter rail ran on double track, or on single track like we have? How many years has Boston had to refine their commuter rail? I googled it. They boast of having the oldest such system in the United States. Then I read a recent news clip that Bostonians were up in arms because they were talking about dropping their weekend service to save money. The article also made the comparison that, "Even Salt Lake City's UTA, in a much smaller market provides Saturday service."
Then another static caught my eye. The previous month's massDOT's reliabiltity rating for commuter rail was 86%. During this same period of time FrontRunner's reliability was in the low 90% range.
Though we continue to have glitches as we strive for perfection on our own reliability, the lady's "Boston comment" stings less now. I guess no matter who we are, where we came from, or where we are headed, as the old proverb says, "The grass is always greener on the other side of the fence."
But I want my passengers to know that we go to great lengths to make their train ride a great experience. There is a lot more going into that commitment than meets the eye.