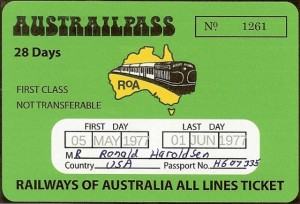 It was my trip of a life time. My dad and I touring Australia from top to bottom and from side to side on a one month Austrail rail pass that allowed us unlimited travel on all the railroads in the country. We were two weeks into our "Australian walk-a-bout" when riding a Melbourne commuter train toward their main station named "Spencer Street Station".
Bouncing along eating an apple and enjoying a glimpse of this city of then 2.5 million people, I carelessly set my rail pass on the upholstered arm rest of my seat. Within moments a lurch of the train sent my plastic "credit card" like rail pass slipping into a small crack between the bench seat and the wall of the train. Our efforts were useless. There was no way we could get the rail pass back. The realization that this would effectively end our Australian travels filled me with dread and panic.
We wondered who could help us. What could we do? I wanted to send Dad for help at the Spencer Street Station while I just stay in the seat and ride to the other end of the line and back. I figured this was the only way to keep track of the exact spot where my rail pass lay hidden. But my dad wasn't about to leave his teenage son going off to who knows where in this foreign city of 2.5 million.
We wrote down our train number and the railcar number. How could we identify this seat? Now the train was pulling into Spencer Street Station. We needed to get off here to go for help. I stuffed a wadded up train schedule into a vent above our seat as we stepped off the train.
The fellow at the information booth listened to us and then said we would need to speak to the station master. From my perspective, this was a very large station, and I wondered if and how long it would take to give my tale of woe to someone who could actually help. But within about 5 minutes, the station master came and heard my story of careless stupidity.
He expressed doubt that we could locate the exact car and seat where my rail pass lay hidden. We gave him our paper with the train number and carriage number that we had ridden. With continued doubt, he explained that we could have a maximum of 5 minutes when that train returned to the station. They couldn't hold the train any longer. He could have a "Car Builder" there to pull one seat only. There wouldn't be time for a second try.
The uncertainty of the next 2 hours waiting for the train's return dragged. But just as promised, a few minutes before the scheduled time, this same station master and a mechanic with a tool bag arrived. As our train rolled into the station, our "car number" came into view. The four of us stepped inside, and I quickly looked for my ill-fated seat. Above was no wadded up train schedule. Was I turned around? Had the train turned around? Again I quickly scanned the interior. Over on the other side was my train schedule marking the spot.
I quickly stepped to the seat and pointed to the crack between the arm rest and the wall. "Right there!" I said with renewed confidence.
In a flash the "Car Builder" had his tools out and went to work. It took him less than a minute to unbolt the seat. As they lifted it away from the wall, my plastic green card lay right where I said it would be.
With a big smile and the "Aussie" accent that I had grown to love, the station master held up my wadded up train schedule and said, "Now that's American ingenuity".
This experience was back in May of 1977. So for almost 39 years, because of this one time that they helped me out, I have felt nothing but praise for all of the Australian rail systems. Things could have turned out so differently for me. And if they had, I could have only blamed myself. They had listened and understood what my problem was, outlined what they could and could not do to help. And then followed through with what they said they would do.
Since working for UTA as a railroad engineer, I have thought about this long past experience often. Every time someone makes a frantic inquiry about a lost cell phone, or needs help in some other way, I think about how I should respond. Do I really listen to the person who is asking for help (or in some cases isn't actually asking, but needs a helpful response)? Do I blow them off "because their problems are caused by their own stupidity?"
I've been there, down stupid alley, as we all have. On the other hand, we clearly have restraints and guidelines on what we can do to help. But do I give the same respect that I, as a stupid teenager, received after I had screwed up? The station master actually gave me praise for my "American Ingenuity". I can assure you that it feels better telling this story than if he had said to me, "What kind of dumb @#$ leaves his rail card out on the seat in a moving train?"
My lessons learned from that long since past experience that I hope that I incorporate into my daily work as a railroad engineer include:
• Am I a good listener? Like that great station master, do I really listen to understand the full scope of the problem at hand?
• Do I give clear communication of what I can and can't do to help? As in my story, we also have restraints on what we can do to help someone. When that train returned to the Spencer Street Station, I knew we had one try and only one try to pull a seat to retrieve my rail pass. If I had failed to identify the correct seat, I would have gone away disappointed and dejected, but without ill feelings toward that Australian railroad. I would have known that they also wanted to find that rail pass and had done what they could.
• Do I do what I say I'll do? I need to be careful not to make promises that I can't keep. But I also need follow through with what I have agreed to do. Imagine the story I'd be telling these 39 years if that station master hadn't returned with his "Car Builder" when that train came back into the station?
• Am I respectful in how I treat others? Whether it's those I work with, or the customers that we serve, that station master of yesteryear helped me with more than saving the last two weeks of my "Walk-a-bout". He was a great example of how to treat others, even when they screw up or do something dumb. Even when it's just a dumb teenage kid.
As I get better at doing this, I'm creating a better quality of life. A better quality of life for me, for my co-workers, and for our customers. UTA likes to call this "Living the UTA Way". I like to think that it is more just that way I am… the way I WANT to live.